BUY A TOSHIBA HDD THROUGHOUT AUGUST AND WE'LL DONATE £1 TO YOUNG MINDS
In partnership with Toshiba, for every HDD you purchase throughout August (whether separately or built into a recorder) we will donate £1 to the charity YoungMinds on your behalf.
 YoungMinds are the UK's leading charity fighting for children and young people's mental health. Further information can be found on their website here: https://youngminds.org.uk/
At the end of August, you can request a certificate detailing the amount you donated by emailing marketing@dvs.co.uk.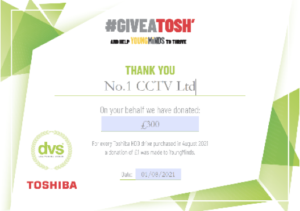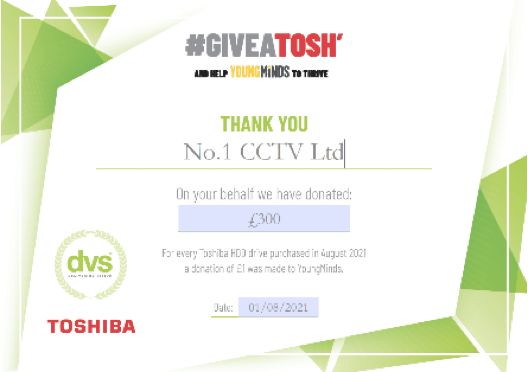 DVS are delighted to be partnered with Toshiba.
Relentless reliability
In a society where 24/7 security is essential and real-time data availability is paramount, intelligent surveillance analysis starts with secure and reliable storage. Toshiba's Surveillance drives offer high reliability and are designed to cope with the concurrent access requirements of CCTV systems.
Toshiba Electronics Europe GmbH (TEE) is the European electronic components business of Toshiba Electronic Devices and Storage Corporation. TEE offers European consumers and businesses a wide variety of innovative hard disk drive products plus semiconductor solutions for automotive, industrial, IoT, motion control, telecoms, networking, consumer, and white goods applications. The company's broad portfolio encompasses integrated wireless ICs, power semiconductors, microcontrollers, optical semiconductors, ASSPs and discrete devices ranging from diodes to logic ICs.
TEE has its headquarters in Düsseldorf, Germany, and branch offices in Germany, France, Italy, Spain, Sweden, and the United Kingdom providing design, manufacturing, marketing, and sales. The company's president is Mr. Tomoaki Kumagai.
For more company information visit TEE's websites at www.toshiba-storage.com and www.toshiba.semicon-storage.com.