COLDSTORE WITH EMBEDDED NX WITNESS VMS
Bringing together two well-established and market-leading systems into one highly cost-effective and powerful video surveillance recording solution, the advanced Nx Witness video management system software is embedded within a COLDSTORE storage array, with all the benefits and advantages of COLDSTORE technology.
COLDSTORE 2U-NX
Product Code: CSTORE8-2U-NX-UK with Single PSU
Product Code: CSTORE8-2UD-NX-UK with Dual PSU
This integrated and seamless product offers:
• Combined 2U server and storage array, with pre-configured VMS
• Recording of up to 64 full HD IP cameras at 30fps with on-board VMD
• Eight disk bays with up to 128TB storage capacity
• Incorporates COLDSTORE S.F.S. and L.A.I.D. technology
• High performance Nx Witness VMS from Veracity partner Network Optix
• No recurring licence fees and free software upgrades
WHAT IS COLDSTORE ?
COLDSTORE is Veracity's award-winning sequential storage system, designed from the ground up for recording video surveillance data. The unique Sequential Filing System (SFS) and Linear Array of Idle Disks (LAID) provide extreme disk reliability, very low power consumption and low total cost of ownership.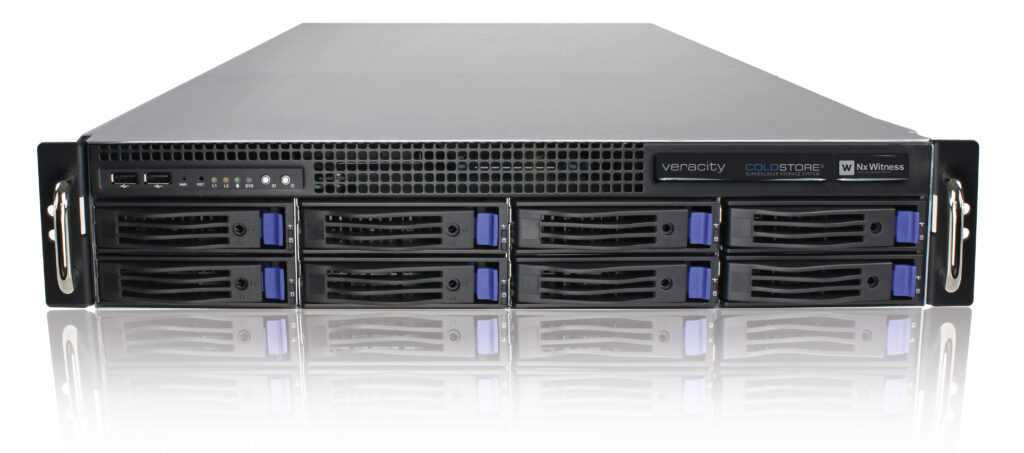 VERACITY'S NEW COLDSTORE 2U NX WITH EMBEDDED NX WITNESS VMS