CIQURIX – Our innovation, your safety.
Ciqurix FCam video flame detection systems are available in two versions, known as FLEX and CORE. The same ground-breaking multi-spectrum fire detection technology is used across both ranges, but the hardware and control systems differ.
FLEX is a cctv system and is used for supplemental fire detection. Devices are connected using standard ethernet cabling and can potentially make use of existing network infrastructure (where suitable).
CORE is a fire system and is used for primary fire detection. It is designed to be compliant to BS5839-1:2017 (UK fire standard), uses fire-rated cabling, and will operate from its internal battery supply for over 24 hours. Each device is connected directly to a CORE Control Hub or Extension Hub with fire-rated 4-pair STP cable using the Ciqurix QLS protocol.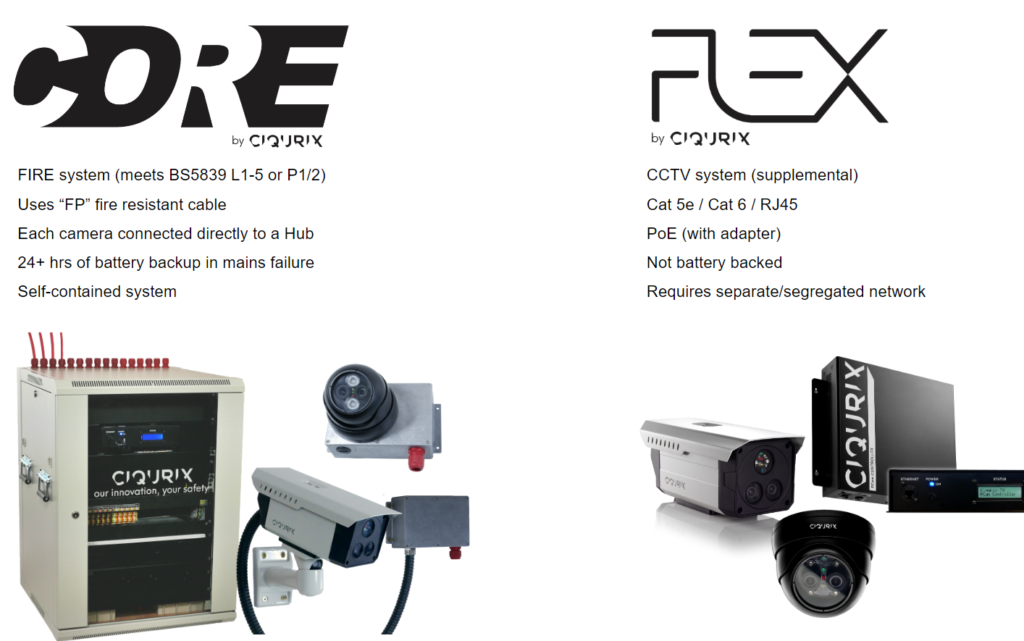 CORE –
Minimum system requirement is a Control Hub and one camera.  The control Hub will support up to 6 cameras, then you need extension hubs which each support an additional 4 or 8 cameras.