ABOUT HAYDON
Since its inception in 1993, Haydon has successfully forged a formidable reputation as a leading entity in the realm of CCTV-related products and accessories, catering primarily to the security wholesale sector.
With its extensive experience and expertise, gained through years of operating in this dynamic industry, Haydon has garnered an in-depth understanding of its customers' unique requirements, enabling it to consistently deliver superior, high-quality products and innovative solutions at competitive and affordable prices.
By meticulously maintaining a robust inventory, it ensures that its valued clientele benefit from swift and efficient delivery services, reducing downtime and enhancing overall customer satisfaction.
Committed to growth and progress, Haydon remains steadfast in its dedication to learning and evolving within the ever-evolving security market.
It continually strives to stay abreast of the latest advancements and breakthroughs in the security field, ensuring that its diverse product portfolio remains attuned to the cutting-edge developments, both present and forthcoming.
This steadfast commitment to remaining current and forward-thinking empowers Haydon to provide customers with state-of-the-art solutions and an uninterrupted supply chain that caters to the demands of today while anticipating the needs of tomorrow.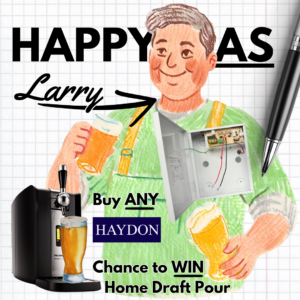 This November, Be Happy as Larry!
Buy Haydon, Win a Draft Pour!
This November, ANY Haydon purchase enters you in to WIN the Philips PerfectDraft Pro Duo. After a day on-site as smooth as butter with Haydon, cap it off with a perfect pour at home! Haydon provides all you need for seamless installs, from CCTV tools to power supplies.
And while you're at it, explore Haydon's top-notch 12VDC Security PSUs, engineered for excellence, ensuring high efficiency and cost-effectiveness for all your security needs.
Cheers to a job well done and a refreshing draft pour! The winner will be revealed in December!
WIN A DRAFT POUR – Terms and Conditions:
Orders will be valid from 1st – 30th November.
Limited to one entry per company. A single Haydon product purchase qualifies for one entry; multiple orders do not result in multiple entries.
1x Philips PerfectDraft Pro Duo prize is available.
The competition is open to businesses operating in the UK with the registered office located in the UK.
Qualifying customers will be automatically entered into the December draw. One winner will be chosen at random.
The prize will be released to the winning customer only after all qualifying invoices are paid, and there are no overdue balances.
SHOP NOW