EZVIZ Cameras: Providing customers with peace of mind
With EZVIZ cameras, customers can feel safe and secure in the comfort of their own homes. Using cloud-based services and AI technology, EZVIZ have produced a collection of innovative security cameras, from motion simulated floodlight cameras such as the LC1C Floodlight to a battery powered wireless security cameras such as the BC1C.
Which EZVIZ security camera to choose?
One of the latest solutions to be released by EZVIZ is the DB2 Pro. Within its sleek design, the DB2 Pro has an impressive range of features including its ultra-wide view, anti-tamper alarm and two-way talk system, making it a must-have device for customers looking to improve the security of their homes. But that's not all. The DB2 Pro is also completely wireless, making it easy for both installers and customers to use.
Find out more about the DB2 Pro
Why choose the EZVIZ DB2 Pro?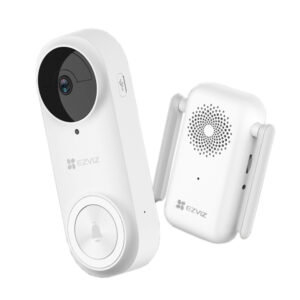 See the whole picture with an ultra-wide view
The DB2 Pro has an impressive 176° field of view, allowing customers to see who is at their door beyond they even open it. This particular EZVIZ security camera has a 5MP camera with 2K+ resolution, which produces an ultra-sharp image of expected visitors and potential intruders.
Deter intruders with an anti-tamper alarm
Designed to provide customers with reassurance, the DB2 Pro features an anti-tamper alarm. Should an intruder attempt to damage or remove the EZVIZ camera,  a sharp alarm will sound and a mobile alert will be sent.
Keep a watchful eye with 24/7 recording
With 24/7 recording, customers can keep a watchful eye on their property, even when they are out of town. No matter what the weather conditions are, the EZVIZ security camera will continue to record, thanks to its weatherproof design.
Respond to visitors with two-way talk
Using the EZVIZ camera app, customers can talk to visitors without opening their door, whether they want to tell family members to come in or tell delivery drivers to leave their packages. With EZVIZ wireless cameras, customers can always answer their door.
Set up in minutes with wireless connection
The DB2 Pro is part of the EZVIZ wireless camera range. With no wires to connect, the DB2 Pro is easy to install and can be set up in a matter of minutes. It has never been easier for installers to help customers achieve a safe and secure home.
What is included with the DB2 Pro?
On top of providing customers with peace of mind, the EZVIZ DB2 Pro comes with a number of useful parts and guides. In the box, you will find:
DB2 Pro Video Doorbell
Chime
Mounting Plates
Inclined Mounting Plates (2)
Screwdriver and Screw Kits (2)
Foam Sticker
Plate Foam
Drill Template
Pin
U-shaped Wire and Wire Connectors (3)
Power Cable
Quick Start Guide
Installation Guide
Regulatory Information
How to install a DB2 Pro
Wire-free and worry-free, the DB2 Pro has been designed to be incredibly easy to install. With no wires to limit where the device can be located, all that customers need to do is choose where they want the DB2 Pro to be placed. You can complete the rest of the installation using the EZVIZ app to connect to the indoor chime.
If you would like to find out more about installing the DB2 Pro for your customers, get in touch with the team at DVS or see what DaiTech has to say below: