Eaton fire systems you can depend on!
Robust fire systems are essential for protecting people and property – both in the commercial buildings on which business continuity depends and in domestic settings. The risks associated with failure – from loss of life to irreparable reputational damage – make selecting the right fire system a critical process. Detecting fire risk early can prevent multiple catastrophes. So to ensure the highest levels of safety, everyone involved in a fire system's purchase, installation, commissioning, operation and maintenance needs to know it can be relied upon, along with all associated devices. Eaton brings decades of expertise to fire systems development, working closely with industry organisations and customers to shape the future of fire safety through innovation and service excellence. Our product range spans state-of-the-art control panels, detectors and alarm devices – all seamlessly compatible – underpinned by a rigorous testing process that assures their quality.
Right for the job!
Helping you match installation to needs Choose from conventional or two-wire systems to suit the project in hand – a process made less daunting by this easy-to-read guide.
Choose from conventional or two-wire systems to suit the project in hand – a process made less daunting by this easy-to-read guide.  The building you're working on may already have an old, conventional fire system installed that you may need to upgrade or extend. How can you best do this efficiently – saving yourself both time and money, complying with regulations, and finding and installing compatible panels and devices? We can help you select a conventional or two-wire system to match your needs, as well as guide you through the relevant regulations.
Conventional systems: Ideal for smaller buildings 
Conventional systems work by dividing the building into a number of areas called zones. Within each zone, detectors and call points are hardwired on dedicated circuits to the control panel. A single zone may include multiple detectors. Alarm sounders and bells require a separate cable within each zone. If a detector or call point is triggered, the control panel can identify which circuit contains the triggered device and thereby indicate from which zone the fire alarm has come. The indicated zone can then be manually searched to locate the triggered device.
Two-wire systems: Suitable for a wide range of applications
Two-wire systems are based on standard conventional system technology. However, they also incorporate additional functionality that enables the call points, detectors and sounders for each separate zone to be wired on a single common circuit. By combining both the detection and alarm annunciation wiring into a single circuit, you can achieve considerable savings in installation time and cabling. The simplicity of operation, ease of cabling and competitive pricing make this system suitable for a wide range of applications. In combination with our 5 in 1 flexible detector, this approach reduces both install and maintenance stock holdings and the labour and materials cost. It also minimises the potential for wiring errors associated with traditional conventional 4 cable systems.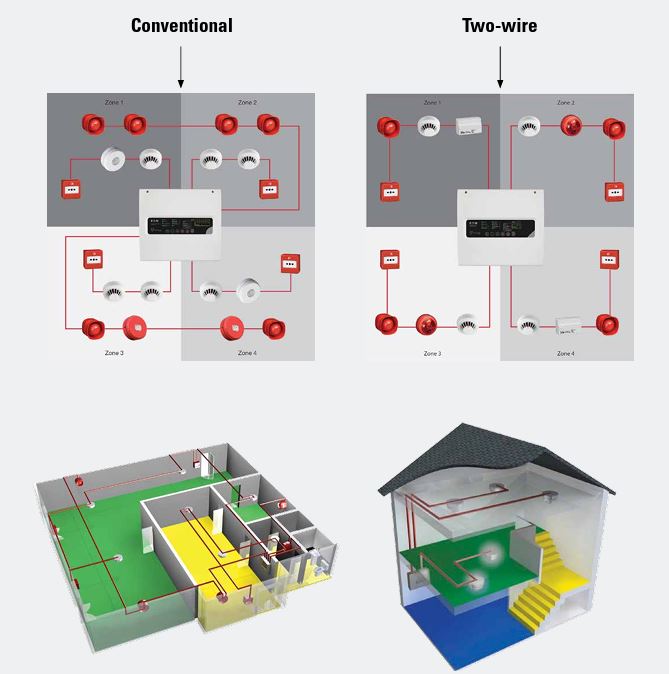 VIEW PRODUCT RANGE